DIY Broadband Bass Trap – How To Build Your Own 8″ Monster Trap
With some basic diy skills and for a fraction of the cost of retail bass traps, you can quite easily build effective broadband bass traps to tame those offending low frequency reflections in your studio. Follow the step by step guide below and you'll transform the sound of your studio in no time.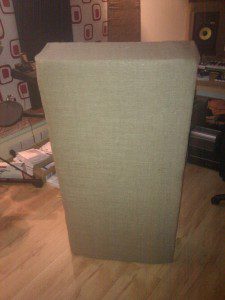 To make a single bass trap you will need the following materials and tools.
Materials
4 x Rockwool RW3, Rocksilk RS60 or Owens Corning 703 Acoustic slabs: 1200mm (48 inches) x 600mm (24 inches) x 50mm (2 inch) with a density of 60kg/m3
4 x 38mm (1.5 inch) Angle brackets
Pack of 25mm (1 inch) crosshead screws
Any breathable fabric to cover the traps with. If you can blow through the fabric without it offering much resistance, then the fabric is suitable for the trap.
2 x lengths of timber 1200mm (48 inches) x 32mm (1.25 inches) x 20mm (0.75 inches)
2 x lengths of timber 546mm (21.5 inches) x 32mm (1.25 inches) x 20mm (0.75 inches)
Tools
1 x saw
1 x screwdriver – preferably electric
1 x heavy duty staple gun with a couple of packs of 12mm (0.5 inch) staples
1 x pair of scissors
1 x pair of gloves
1 x face mask
Step 1
Cut your lengths of timber to size and lay them out on the floor to create a rectanglular frame. The shorter lengths at each end should be inside the longer lengths.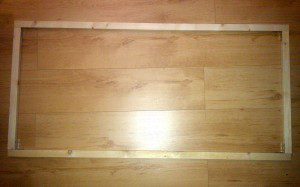 Step 2
Position the angle brackets on the inner side of the frame in each corner and screw them into the timber. If you are using an electric screwdriver, screw slowly to avoid splitting the wood.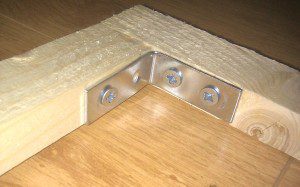 Step 3
Lay some of your material out on the floor and place your timber frame on top.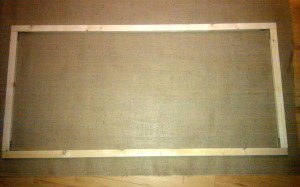 Step 4
Fold the material over the edges of the frame and staple it down along each edge.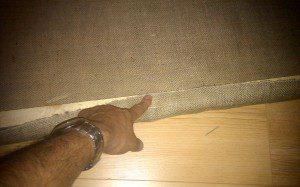 Step 5
Trim off any excess material.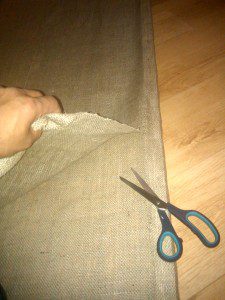 Don't worry if the frame looks a little crude at ths stage.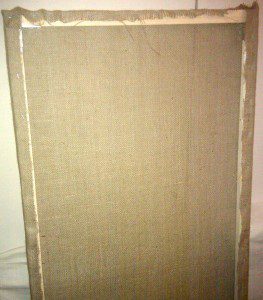 Step 6
Lay out some more material on the floor and place your 4 x 50mm (= 8 inches) acoustic slabs on top of the material. Wear gloves and a face mask when handling the acoustic slabs.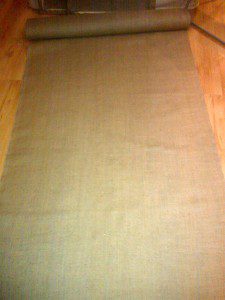 Step 7
Lay your timber frame on top of the acoustic slabs with the front side facing down.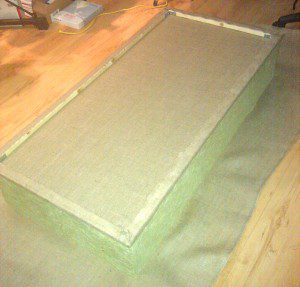 Make sure it lines up at the edges and corners.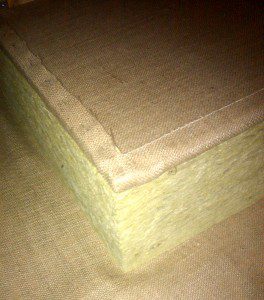 Step 8
Fold the material up and over the acoustics slabs. Pull it tight and staple it along each edge of your timber frame.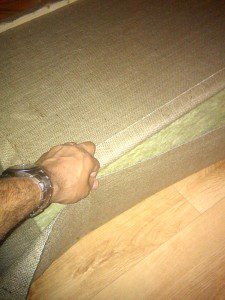 Staple the remaining edges down and trim off any surplus material.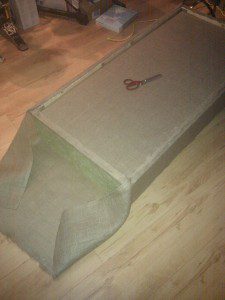 Your finished bass trap will look like this from the rear ..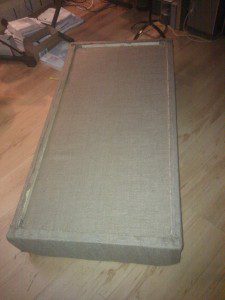 and like this from the front.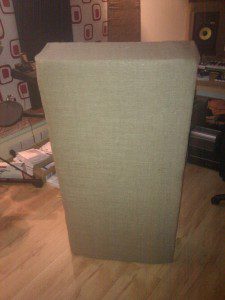 Position your bass traps where you need them.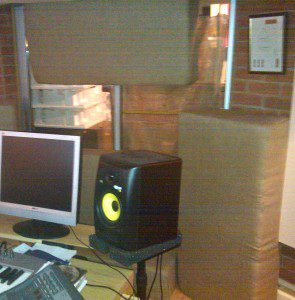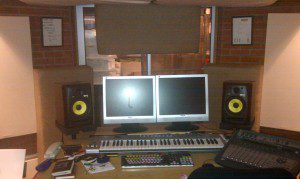 I made ten of these for a total cost of around £250 ($400). It took approximately 8 hours to build them all.
Thanks for reading. If you have any questions or comments please leave them below.