Resolume Review and Summary of use with Ableton Live / Link.
Pricing:  Resolume Arena €799 Resolume Avenue €299
Volume discounts for both, and 50% Educational discount
Fully functional demo version available (with video watermark and occasional speech output)
Intro
Here at RMM we don't normally do reviews of non audio software – so what gives?  
The visual element of performing is becoming increasingly important, particularly amongst those producers who tend to appear live with not much more than a laptop running Ableton Live or Traktor. Good planning for a live show means bringing visuals into the production process itself, and with Resolume 6 the team have worked hard to streamline the workflow around this. With that in mind, we know a lot of our readers are thinking the foray into video could be a very complex one – but it really isn't, and Resolume is becoming the go-to application in this area with its simple, powerful interface. With new Ableton Link support there has never been a better time to investigate…
Preface
Resolume were founded in 2001 in The Hague, Netherlands. The team is small and dedicated and it's the classic story – they were frustrated with a lack of decent VJ software, so set about creating their own.
Resolume is now at version 6, and comes in 2 flavours – 'Arena' and 'Avenue'. Avenue is suitable for the majority, whilst Arena adds high end features such as Projection Mapping, DMX Control and SMPTE synchronisation. For clarity – in this review I have used Arena, running on a PC with Windows 10 Fall Creators Edition. At no time have I used any of the Arena-specific features, so everything here applies to Avenue also. Differences between Mac and PC editions are trivial, and do not affect any aspect of the review.
Installation
Installation is straightforward – login to your account at the Resolume website, click on your licence code and you are provided with a download link. Install the software, and you are presented with the clean interface, with an example project loaded.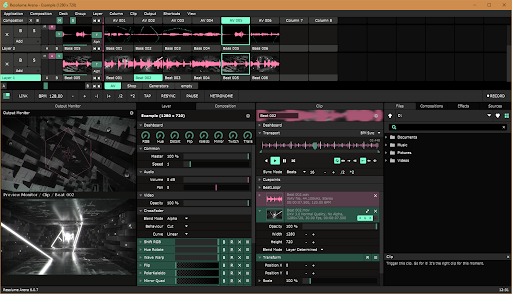 Figure 1: The Resolume Interface – with demo project loaded
There are many reviews of Resolume around, so I won't be going into detail on its operation here, but rather focussing on using Resolume as a performance tool for the producer that either uses Resolume alone or with Ableton Live.
To give a very brief overview – Resolume allows live mixing of video ('VJ' style). Once loaded, you are presented with a grid of boxes – and each one can be loaded with a video clip (with or without audio), an audio clip, a still image or other media (there are many options from text effects and image masks to live webcam sources). This grid can then be used to trigger clips in real time (sound familiar, Ableton users?), and each element can have a huge array of effects and tools applied. There are many effects built in, and the system is also extensible through the use of 3rd party plugins.
Standalone
As mentioned, Resolume is a great standalone tool for mixing audio and video. Without the need for any other software, it is easy to import audio clips, play them, sync them to video and apply all manner of effects including those which manipulate the video in response to the audio content.
It is best in this instance to think of Resolume as a simplified version of Ableton Live when it comes to the audio side – the grid can host any number of audio loops, the only distinction being that the traditional 'scenes' in Ableton, are 'columns' in Resolume, so they are vertical rather than horizontal. This makes a lot more sense in this context where video items are above or below others in a virtual stack – in practice this is a very simple workflow change to adapt to for those coming from Ableton.
Carefully planning the export of your tracks, and assembling into sections (which can be as small or as long as you wish), gives you a huge amount of real time creative control over how you then perform those tracks live. For instance, if you elected to place your individual tracks across columns (e.g. Song 1 in Column 1, Song 2 in Column 2 etc.), then each layer (Resolume's nomenclature for a horizontal row) would contain the different elements that comprise the performance of the song.
One nice way to do this would be to think of each layer holding an individual 'stem' of a song. This may mean you have Drums on layer 1, Bass on layer 2, Synths on layer 3, Vocals on layer 4 and so on. You can have video in each of these elements (or clips) too, or you may decide to have your video in  separate layers below or above the song.
This is where things get interesting – you can now mix elements of the song in and out 'live', whilst also blending different elements of video in and out, adding visual effects and so on. Resolume's internal routing also means video can be synced to the audio, and additional video effects can be triggered by certain frequencies in the music – very nice.
You may decide to go one further and use multiple columns for different sections of each song, and you are then able to mix in different elements from different sections of a song to modify the arrangement live as you perform. Or, add extra loops and parts to additional clips to effectively remix the track on the fly. Everything is very stable, with no crashes noted at all – and synchronisation is perfect.
Audio is further enhanced by VST plugin support, allowing the addition of effects into the process. There is a huge amount of creative control on offer, and hooking Resolume up to an external MIDI controller can make for a powerful creative live performance tool.
Ableton Link
Going one step further, Resolume provides full support for Ableton Link. Link affords for perfect synchronisation between applications that support it, either over a network or locally.

Figure 2 : Activating Ableton Link
Activating Link is simple – fire up Ableton Live, fire up Resolume, and hit the 'Link' button in both. That's it – everything will now be synchronised between the two applications with no messy virtual MIDI cables in sight.
Hit play in Ableton and Resolume plays, and maintains ultra tight sync. One thing to note here, is that there is no Master/Slave designation – change the tempo or hit play/stop in either Ableton or Resolume and the other will do the same thing with no warning. This can be problematic in certain instances, particularly where different people are operating each application so does need a bit of thought to prevent any mishaps.
Being able to tap into the full functionality of Ableton Live in a performance, along with all the features of Resolume, provides endless freedom. In my testing, I had a great time firing up old projects, and jamming along switching from Ableton to Resolume and back. Simply shooting some MP4 footage on my phone and then applying audio-synced effects was a huge amount of fun.
On the subject of video – Resolume always recommend using Quicktime DXV encoded video (the codec can be downloaded for free from the Resolume website). Support is there for other formats including MP4, but the processor has to do a lot of work to decompress them which is not ideal in a live situation and hence not recommended. DXV processing can in most cases be offloaded to the GPU giving optimum performance. In my testing, however, DXV files do prove to be very big indeed – a 12 minute video reaching nearly 3Gb in size. The key drivers here as to which format you will choose will be down to the power of your laptop (and its ability to decompress smaller formats quickly enough), the amount of processing you are doing in realtime, and the amount of storage space you have.
It is worth pointing out at this stage the performance of Link – as a protocol this is significantly more advanced than MIDI Time Code (MTC), and in my experience was totally stable and glitch free – each application works in complete harmony and setup is as easy as you can imagine. There is a tightness you do not usually experience from syncing applications in this way, and if I had one minor grumble it would be to allow certain applications to be masters and others to be slaves, so you can have one person managing critical things like tempo at all times.
Whether you choose to run a separate laptop for Resolume and Ableton will depend on a number of factors. On my Dell XPS 13 Core i7 laptop (2018 model), I used both Resolume and Ableton side by side. In Resolume I stuck to using only MP4 encoded video, and Ableton was loaded up with a project of 12 tracks, with around 25 VST plugins running live. Everything was handled absolutely fine (no matter how much video processing I added into the mix!). Of course, results will vary from machine to machine, so it is important to factor into the cost of Resolume either upgrading your current laptop to a high powered model, or purchasing an additional laptop specifically for Resolume.
Conclusion
With the solid audio engine, you could quite easily use Resolume as your only performance tool, and forego using an additional package at all. Adding Ableton Live/Link to the setup provides an incredibly powerful set of creative tools for taking your live performances to the next level.
Bio
Based in Hebden Bridge, UK, Peter Duggal is a musician and producer whose current projects include a collaboration with Wolfgang Flur (ex Kraftwerk), and scoring music for computer games and film. His website is at www.peterduggal.com